"LED traditional indoor lighting equipment is not highly automated; equipment positioning accuracy, flexibility is not enough; production parameter collection capacity is insufficient; insufficient interface with plant information systems and other issues, seriously restricting the development of LED indoor lighting production enterprises." May On the 23rd,
Yang Dong, vice president of sales of Hyun Shuo Optoelectronics,
said in
Foshan Station,
"High-tech LED supply chain good product tour"
.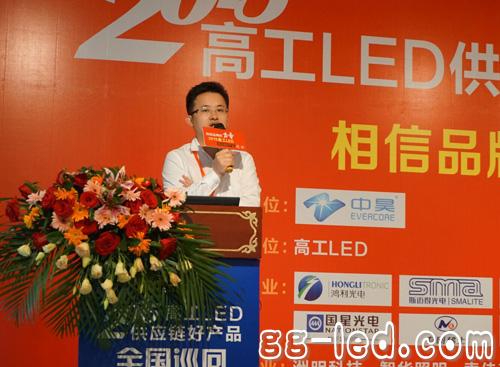 Hyun Shuo Optoelectronics Sales Vice President Yang Dong
As a leading enterprise in LED automation and intelligent equipment, Hyun Shuo Optoelectronics focuses on the R&D, manufacturing and sales of LED optoelectronic devices (splitting machines, tape machines, intelligent assembly lines for LED lamps, etc.). There are more than 200 employees in the company, and more than 60 engineers directly engaged in equipment research and development, accounting for 30% of the total number.
"Now, the low-margin situation of the LED industry has not been fundamentally changed. Everyone is more urgent about the automation requirements of LED production equipment. Fully automated and intelligent lighting equipment will open a new era in the LED lighting industry." Yang Dong said.
Yang Dong said that for the market demand of the LED industry, the Hyun Shuang R&D team successfully launched a single-head automatic placement machine XSTP2015/1-DT-1200, which is mainly used to manufacture various lighting products and LED displays. Compared with the traditional placement machine, this device does not need to tape the LED chip before the patch, which not only simplifies the production process, but also greatly saves production costs.
According to current trends, the full automation of equipment has risen to a new level in the next few years. Yang Dong mentioned, "In the next few years, the fully automated production line will introduce robot structures and adopt human-computer interaction mode to reduce production costs; in addition, the luminaire assembly process will also show a standardization trend, from the production line automation to the smart factory. Will be realized soon."

Electrical Switchgear Panels,L&T Switchgear Chennai,Siemens Gmi Switchgear,8Da And 8Db Switchgear
Shandong Shunkai electrical equipment co., LTD. , https://www.chinasdsk.com