[High-tech LED News] Recently, GE Lighting announced that the company has signed an agreement to acquire Lightech. Currently, the acquisition is under regulatory approval and is expected to be completed in the next six to eight weeks. The specific purchase price has not been disclosed.
Lightech is a privately held company headquartered near Tel Aviv, Israel. Its main business is to provide the lighting industry with the required LED electronic drivers and halogen transformers. Currently, the company has its own business team in Europe, the United States and Asia, and is a leader in the lighting technology industry.
GE Lighting President and CEO Maryrose Sylvester said that LED drive technology is a key smart power technology for LED lighting systems. GE's power electronics design capabilities will be combined with Lightech's efficient power drive and control technology to provide complete customer satisfaction. System and higher performance drives and controllers.
Lightech CEO Zvi Schreiber said that he was fortunate to be able to join GE Lighting. GE Lighting's broad vision will enable its business to grow and lead the industry in the era of great changes in the lighting industry.

Military power system refers to the power supply which can provide power for many equipments or other use ,as this items developed through our company R&D department,it has a high energy density and high working power.Seconldy as a new energy it uses ,it is totally pollution-free.Thirdly ,for this miltifunction power pack , Capacity, resistance, Voltage, platform time consistency is good.With short-circuit production function, it get more safe and reliable.Besides YFJ company has a very strict test before sending to customers in order to ensure of our product quality .
Charging chip protection plate(using military-grade smart IC chip, with overcurrent, overpressure, overcharge, overcharge, undervoltage, short circuit, reverse connection, equilibrium voltage and equilibrium charging and other multiple protection functions) to ensure the safety and reliability of the Battery Pack.
1. Solar panel: 18V/40W poly with 5m cable
2. Battery: 12V*40Ah Lithium Battery
3. Output power: 500W inverter
4. Charging time: 4 hours
5. Extra battery voltage: DC12V
6. DC output: 5V/2A and 12V/5A
7. DC input: 12V/5A (PV charger)
8. Input voltage (Max): 24V
9. LED Lamp: 3W led lamp with 5m cable*2pcs
10. Lighting time: 74 Hours (2 lamps)
11. USB output: 5V/4A*4pcs
12. 4 in 1 charging kit: 1 set
13. AC output: 220V/50Hz or 110V/60Hz
14. Car boot port voltage: 12V/600A(instant current)
15. Storage time: 6 months
16. Operation Humidity: 10%RH-90%RH
17. Protection grade: IP42
18. Charge operating temperature: 0-45°C
19. Discharge operating temperature: -10~50°C
20. Certification: CE\FCC\UN38.3\ROHS
21. Dimentions: 480*305*165mm/power box
22. Weight: 8.5kg for power box, 13KG for whole set
23. Color option: Red and white, Yellow and white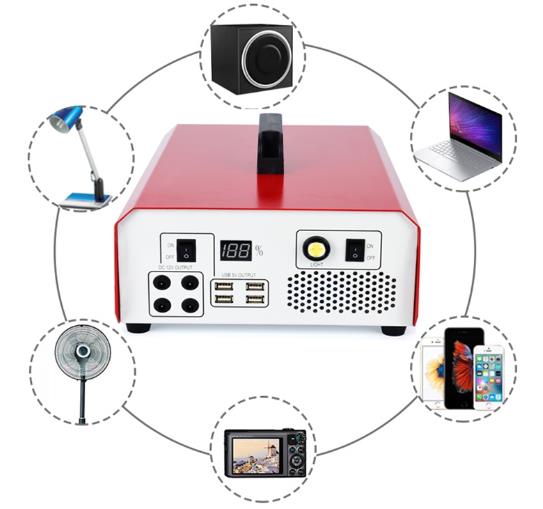 Military Power Systems,Military Power Supply,Battery Power Supply,Adjustable Power Supply
YFJ TECHNOLOGY (HK) CO.,LIMITED , http://www.yfjpower.com