Safety-based passive millimeter wave technology screeners now offer enhanced metal and non-metal hidden object detection capabilities
Committed to providing leading suppliers of power management, safety, reliability and high-performance semiconductor technology products, Microsemi CorporaTIon (NYSE: MSCC) released for security and loss prevention applications, with enhancements The next generation AllClear® handheld screener for metal detection. The enhanced AllClear screening instrument now has an integrated metal detector, which allows users to more accurately detect metal objects that may be hidden on the human body, as well as ceramic, plastic, liquid, gel, powder and paper items. From today to September 26, Microsemi demonstrated the AllClear screening instrument at booth 276 of the 59th American International Security Exhibition (ASIS) in Chicago, USA.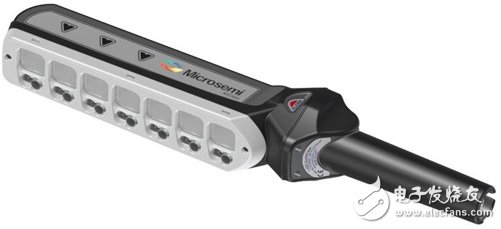 AllClear is the world's first handheld image-free screener with integrated passive millimeter wave detection technology. It is battery-powered and provides a high level of hidden objects by detecting the minimal changes in millimeter waves naturally generated by objects hidden on the human body. Detection function. The device does not need to emit any radiation and generate any images to achieve, allowing users to detect hidden objects without displaying anatomical details, in order to protect privacy. The AllClear screener can also reduce the need for intrusive pat-downs and further eliminate privacy issues.
Microsemi AllClear handheld screeners are used in a wide range of security and loss prevention applications. Examples include:
· Employee / visitor screening: warehouse, retail or manufacturing distribution and execution center
· Filter detection points: military installations, courts, border crossings, prisons, government, private and public buildings
· High-security devices: petrochemical plants, nuclear energy facilities, national historical relics, and other critical infrastructure
· VIP protection
· Passenger screening: ground, waterway, railway, aviation, etc.
· Venues: sports venues, and cultural venues
David Hall, vice president and general manager of RF Integrated Solutions Division of MGM SOM, said: "MGM SOM's patented passive millimeter wave technology is a safe and effective alternative solution for radiation-based screening instruments and can protect the privacy of inspected persons .Compared with traditional metal detectors, this technology allows operators to detect a wider range of items, including non-metallic contraband, such as narcotic drugs, plastic bombs, electronic products, etc. "
AllClear: How does it work?
All people and objects generate millimeter wave energy, which is a natural form of electromagnetic emission and has different power levels. The AllClear Screener from Microsemi Inc. detects the difference in millimeter wave power emitted by an individual or any hidden objects that the individual may carry. By identifying the "boundary" created by the different energy levels between the radiation generated by the body and the object Allow users to quickly and easily detect items such as weapons, electronic devices, and even hidden cash or documents.
The AllClear screener also uses a LED light on the top of the device to visually remind the user of hidden items, and can also use sound or vibration, depending on the mode selected.
The AllClear Screener is easy to use, requiring only a single operator and minimal training. To watch a short video of this innovative screening system, please visit the website AllClear Video.
AllClear features
· Safe passive millimeter wave technology: no radiation, no intrusion and protect personal privacy
· Real-time detection with high throughput
· Battery life: 3.7V lithium ion battery, providing up to 16 hours of continuous use
· Volume: 18.38 "x3.54" x2.83 "(467 mm x 90 mm x 72 mm)
· Weight: 1.675 lbs (0.68 kg)
· Quality assurance: one year standard warranty, you can choose to extend the warranty
Megason Security Solutions
In addition to the screening system, MGM 's security product portfolio includes a wide range of informaTIon assurance IA and anTI-tamper (AT) solutions, including FPGAs, SoCs, encryption solutions, and encrypted solid state drives , Intellectual property and firmware. Microsemi also provides comprehensive security-related services, as well as design, assembly, packaging and testing services in its trusted facilities.
Supply
Microsemi now provides the next-generation AllClear screening instrument, as well as on-site and off-site AllClear training courses.
Customers and channel partners can find more information about the AllClear screener at TIons / allclear or contact sales. And mark "AllClear" in the subject line.
About Micromax
Microsemi Corporation (Nasdaq: MSCC) provides comprehensive semiconductor and system solutions for communications, defense and security, aerospace and industry. Products include high-performance, radiation-resistant and highly reliable simulations And radio frequency devices, programmable logic devices (FPGAs), customizable single-chip systems (SoCs) and application specific integrated circuits (ASICs); power management products, clock and voice processing devices, RF solutions; discrete components; security technologies and scalable Tampering with products; Power over Ethernet (PoE) IC and Midspan products; and custom design capabilities and services. Microsemi is headquartered in Aliso Viejo, California, USA, and employs approximately 3,000 people worldwide. For more detailed information, please visit the website: http: //.
Traffic Light Controller,Traffic Light Management,Adaptive Traffic Signal Control,Wireless Traffic Light Controller
Jiangsu Bosiwei Optoelectronics Group Co.,ltd , https://www.bswledled.com