Recently, I chatted with a well-known angel investor and a big god in the industry. When it comes to smart hardware entrepreneurship, there is a common feeling that winter is coming.
The smart hardware wind that started to blow up from Google Glass has become a tornado through the brewing of 2013 and 2014. Entrepreneurial words must be called intelligent hardware. Chatting must talk about hardware entrepreneurship. Meetings must have hardware links, and a large number of intelligent hardware products Out, from small teams to big companies are very active, really can be described as barbaric growth.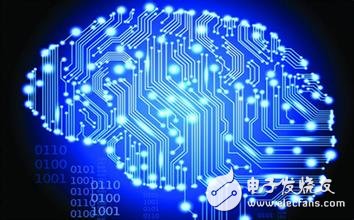 Plus APP is smart, there is no market at all.
Hardware products with the name "smart" have long occupied a place. Smart bracelets, cups, glasses, smart toilets, cabinets, toilets, curtains, faucets, shower rooms, drying racks, sofas... It seems that the size of objects in the home life can be rubbed with the "smart home". In the global crowdfunding website pozible, you can see new hardware products every day.
Is this really true? Consumers will not pay. Previously, Meng Technology reported that Henrik Holen, CEO and co-founder of smart home product startup Viva Labs, said that smart home products with satisfactory design should comply with the Four Principles: Do not ask for user interaction, let users be the masters, improve products and worry about users.
The domestic entrepreneurial team, the understanding of intelligence is undoubtedly "control", open the door with a mobile phone, use the mobile phone to control the curtains, use the mobile phone to see the temperature and so on.
What is the future of intelligence? Take smart home as an example. When I leave home, the heating device will automatically turn off, the light will automatically turn off, and the burglar alarm will automatically turn on. All of these things that I had to remember in the past are now done automatically by smart products. In the busy life, these small things can help users worry, we believe this is the future of smart home.
The water is deep, and success is definitely a life of nine deaths.
In the view of male songs, it is much more complicated to do intelligent hardware than the entrepreneurial development of APP development. From industrial design to software development, cloud service construction, mold opening and sales, such entrepreneurial costs are high, time is long, and profitability is difficult. Estimated, and related to the supply chain and sales channel system, these two thresholds are beyond the grassroots startups, even 360, Ali, Baidu and other big companies can not do anything.
Specifically, the hardware industry is different from software. Although the foundry is highly developed, developers only need to design well. If the scale cannot be formed, the supply chain may not support it. (Look at Lao Luo's hammer, you will know )) If the supply chain does not support it, the cost of the product will remain high, which is the main reason for the high price of early smart devices.
When the giants enter these markets, the hardware is sold free or at low prices, the price of smart devices is continuously lowered, the entrepreneurs have not enough research and development funds, the cash flow is not guaranteed, and there are huge problems in financing. It becomes a very common phenomenon.
The market is still early, the channel has not been opened
Let's take a look at the market. From two perspectives, one is that there are huge potential needs, such as air monitoring for air quality, smog removal, and air purification. It seems to be a market of tens of billions; but on the other hand, it is ordinary consumption. The perception is not strong. One is that the price of the product is high and the operation is not convenient. The real mass market is far from being activated.
On the one hand, there is constant speculation, what crowdfunding and starting, and on the other hand, online sales are weak, and offline sales are simply incapable. Not long ago, Meng Technology collected 40 smart hardware products and launched the "geek bus" experience. It hoped that more people would know about smart hardware, experience and purchase through display and experience. Indeed, we have also seen huge market demand, but where do consumers go to buy?
The traditional offline sales channels are very high and unimaginable. The average startup company has no ability to trade. In this market environment, even if the team that got the financing is still less than a year, let alone the entrepreneurial team.
There is no innovation behind the explosion.
Although smart hardware has come out every day, but two years have passed, I really want to say that the product has been recognized by the industry and users. The sales breakthrough has become an explosion. The song tells you, sorry, the three words are "not really."
As early as May, Xiongge took a picture in the circle of friends and searched for a smart bracelet on Taobao. There are more than 100 famous and unknown bracelet brands. It is difficult to see differences in design and core functions. It is exactly the same. For many people, the purpose of entrepreneurship is not to create, but to use the trend of smart devices to use the user's early adopter mentality to copy hardware. They don't care about the product experience, and there is enough demand.
Is it a way out or a dead end to continuously introduce new products?
The former singer said that a bunch of smart hardware entrepreneurship is difficult, but the advantages of hardware entrepreneurship are also there, that is, once the product is sold out, it can be stopped immediately and become a new product. This has led many teams, especially those who have received money, to continuously launch a series of products that look like "industry chain".
Of course, the predecessors who took this routine are Apple, and China's Xiaomi. In fact, Xiaomi, in addition to the mobile phone, later launched a new product, in addition to 48 yuan can be bought under a flyover in Beijing, the sales of mobile power, sales Basically very bleak.
This may be an inevitable choice. BroadLink, the leading brand of domestic smart home products from Hangzhou, is also a new product this year. They hope to provide a product foundation and build an ecosystem for the DNA platform by launching smart items. In addition to the smart socket SP mini, BroadLink has also introduced smart remote control RM-home and RM-pro, and will expand the product line of WiFi speakers, baby detection cameras, smart smoke detectors and smart door locks.
Perhaps, every industry needs such a process from chaos to clarity. The portal era has passed, the old is gone, the Hundred Regiments has passed, the US group has stayed, the hardware is coming, who will stay?
Military power system refers to the power supply which can provide power for many equipments or other use ,as this items developed through our company R&D department,it has a high energy density and high working power.Seconldy as a new energy it uses ,it is totally pollution-free.Thirdly ,for this miltifunction power pack , Capacity, resistance, Voltage, platform time consistency is good.With short-circuit production function, it get more safe and reliable.Besides YFJ company has a very strict test before sending to customers in order to ensure of our product quality .
Charging chip protection plate(using military-grade smart IC chip, with overcurrent, overpressure, overcharge, overcharge, undervoltage, short circuit, reverse connection, equilibrium voltage and equilibrium charging and other multiple protection functions) to ensure the safety and reliability of the Battery Pack.
1. Solar panel: 18V/40W poly with 5m cable
2. Battery: 12V*40Ah Lithium Battery
3. Output power: 500W inverter
4. Charging time: 4 hours
5. Extra battery voltage: DC12V
6. DC output: 5V/2A and 12V/5A
7. DC input: 12V/5A (PV charger)
8. Input voltage (Max): 24V
9. LED Lamp: 3W led lamp with 5m cable*2pcs
10. Lighting time: 74 Hours (2 lamps)
11. USB output: 5V/4A*4pcs
12. 4 in 1 charging kit: 1 set
13. AC output: 220V/50Hz or 110V/60Hz
14. Car boot port voltage: 12V/600A(instant current)
15. Storage time: 6 months
16. Operation Humidity: 10%RH-90%RH
17. Protection grade: IP42
18. Charge operating temperature: 0-45°C
19. Discharge operating temperature: -10~50°C
20. Certification: CE\FCC\UN38.3\ROHS
21. Dimentions: 480*305*165mm/power box
22. Weight: 8.5kg for power box, 13KG for whole set
23. Color option: Red and white, Yellow and white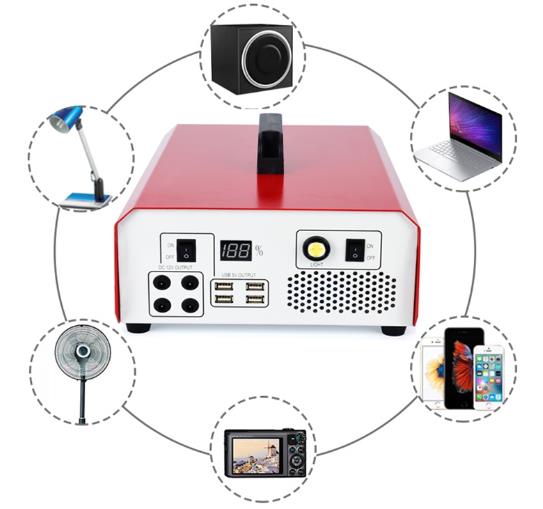 Military Power Systems,Military Power Supply,Battery Power Supply,Adjustable Power Supply
YFJ TECHNOLOGY (HK) CO.,LIMITED , http://www.yfjpower.com