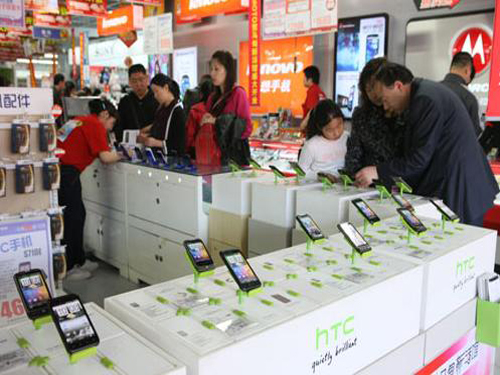 Lu Junkuan, a senior analyst in charge of mobile communications at Gartner Asia-Pacific, a ball research and consulting company, is very optimistic about the contribution of local mobile phone companies to the Chinese smartphone market. Recently, Lu Junkuan accepted an exclusive interview with a reporter from China Electronics News. He said that although Gartner has not yet released the final statistics for the fourth quarter of 2011, it is estimated that the entire Chinese smartphone market will reach 75 million in 2011. Sales volume increased by 175% compared with 2010.
Since smart phone demand in China was blown out in China in 2011, Gartner is very optimistic about the development of the Chinese smart phone market in 2012. It is expected that the market size this year will reach 120 million units and the market growth rate will reach 60%. Lu Junkuan's estimate of the overall size of China's mobile phone market in 2012 is 500 million units, which means that the market share of smart phones in China will reach 25% this year, reaching the average global smartphone market share in 2011.
"In the development of smart phones, China lags behind many countries and regions in Europe, the United States, Japan and South Korea, but China has a large user base. Once the demand blows out, China will have the opportunity to become the world's largest consumer of smart phones in the first quarter of this year." Lu Junkuan said.
In general, the focus of this year's global smart phone market will be shifted to China. The Chinese smart phone market will set off a climax in 2012. It is estimated that the annual sales volume of smart phones will reach 164 million units, an increase of 120%, of which the size of the thousand-dollar smartphone market will exceed 100 million.
Supply and demand are in place

Demand already exists. If supply can also actively follow up, in 2012 China's mobile phone market will usher in a large increase in smart phones.
"China Electronics News": What is Gartner's judgment on China's 2012 smart phone sales reaching 120 million units?
Lv Junkuan: Since the third quarter of last year, low-priced smart phones launched by ZTE, Huawei, and Lenovo have received good response in the market, causing relatively strong shocks. This market reaction has continued until now. It is not difficult to see that there is a demand for smart phones with a price of around RMB 1,000. After Apple and Android phones have nurtured the market, ordinary consumers have gradually deepened their understanding of smart phones. However, previously there were no suitable models that meet the needs of the general consumers, because traditional smartphone manufacturers such as Samsung, Apple, and HTC are concerned with high-end markets. The low-priced smartphones launched by ZTE Corporation, Huawei Technologies, and Lenovo's 1,000 yuan satisfied this demand and were therefore favored by consumers.
In addition, on the chip side, Qualcomm will put more weight on low-cost smartphone chips this year, MediaTek is also pushing low-cost smartphone solutions. Since demand already exists, if the supply can also actively follow up, then in 2012 China's mobile phone market will usher in a large increase in smart phones, and may even exceed 120 million sales. In the first quarter of this year, China will have the opportunity to become the world's largest smartphone shipment country.
Competitive layout is clear

The low-end smartphone market below 1,000 yuan is mainly competed by Chinese mobile phone companies.
"China Electronics News": In your opinion, the above-mentioned traditional smart phone companies will develop to the low-end market?
Lv Junkuan: Not necessarily. The Chinese market is large, and only the high-end market is sufficient to make money. At present, Apple's market share is already very high. Its mobile phone products are not many, and the brand is also very high-end, and it should not develop to the low-end market.
HTC will not make money by taking the low-end route. From the aspects of company attributes, production costs, channels and brands, HTC is not suitable for taking the low-end route. The low-end and mid-range smartphones that HTC recognizes are actually products that cost around $250, not what we call low-end smart phones below $150.
Samsung is different from the above companies. It has a long product line and a wide range of channels. It can produce high-, mid-, and low-speed smart phones. Although Samsung can produce smartphones under $150, it will not spend much effort on developing low-end products because Samsung's strategy is to develop flagship products, star products and updated versions, and then drive sales growth through advertising marketing. .
It is difficult for enterprises such as ZTE and Huawei to enter the high-end smartphone market. Such enterprises are suitable for producing low-end products. Therefore, in 2012, China's smart phone market will present such a situation: mobile phone manufacturers dominated by international brands will compete for mid-to-high end market; the low-end smart phone market below RMB 1,000 will be mainly competed by Chinese mobile phone companies. Among them, there are subtle differences in the mobile phone market below 1,000 yuan. Each phase difference will have a brand echelon. For example, the smart phone market with more than 1,000 yuan may be dominated by ZTE, Huawei, and Lenovo, with a further 100 yuan. It may be led by Jin Li and the company.
Domestic brands have the opportunity

Businesses can not make money selling mobile phones in the short term, but they must continue to think about how to develop in the long run.
"China Electronics News": Some domestic mobile phone manufacturers that have locked in feature phones have also begun to enter the smart phone market. Do you think these companies have the opportunity?
Lu Junkuan: ZTE, Huawei, TCL, Lenovo and other companies have opportunities. Previously, ZTE and Huawei's operators had more obvious guidance. At present, enterprises are also expanding their own channels. Lenovo has developed steadily in the Chinese market, but there has been no breakthrough in the international market. If Lenovo wants to expand into overseas markets, it is a good opportunity to cooperate with the NEC mobile phone business unit that is being divested.
Gionee and Backgammon companies that are actively exploring the smart phone market also have opportunities in the smart phone market, but for these companies, the popularity of smart phones is not good news. The functional mobile phones of these brands could have been sold for more than 1,000 yuan, and the revenue was very high. However, smart phones now have a large number of thousand-dollar products. Therefore, in terms of smart phones, although Jinli and Backgammon have good sales, they will earn less profit. In 2012, the demand for ordinary feature phones in second and third tier cities will be replaced by thousands of smart phones.
"China Electronics News": Xiaomi's mobile phone is currently very popular. Alibaba will also have to further cooperate with Tianyu Longtong to launch an updated version of Alibaba Cloud Mobile Phone. How do you view these phones?
Lu Junkuan: We must have a long-term business model to make profits. Millet, Aliyun mobile phone how to make money in the long-term I have not seen. In the short term, companies can use very low prices, or even make money to sell mobile phones. However, in the long run, we must continue to think about how to develop.
700 yuan or less smart machine meaningless

Although smartphones with prices below $700 can be technically implemented, the specifications will certainly not be very good.
"China Electronics News": Some analysts say that in 2012, the 1,000-yuan smart phone will move toward a lower price, and there may be a smartphone with a price between 400 and 700 yuan. Do you think this possibility exists?
Lv Junkuan: Smartphones with prices below $700 are not very meaningful. Although they can be technically implemented, the specifications will certainly not be too good. This will lose the meaning of smart phones. The stable price that will eventually be reached in the smartphone market is 1,000 yuan. Prices will be good at around 1,000 yuan. Products under 700 yuan will not be very good. There will be a certain amount of profit for certain specifications.
512 megabytes of memory, 3.7 to 4 inches of capacitive touch screen, and more than 1 gigabytes of CPU, this specification will be the basic specifications for smartphones in 2012, and mobile phones with specifications below this level will have little significance for consumers, not only users. The experience will be poor and the demand will not be high. Consumers are very smart. Only when the product reaches a certain level, sales will break out.
"China Electronics News": What will happen to the operating system in 2012?
Lu Junkuan: In the Chinese market, the Android system will also occupy the mainstream, especially in the thousand-dollar smartphone market. Whether the market share of Windows Phone system can rise depends on whether Nokia can launch a $150 or so Windows Phone smartphone before the end of the year. In fact, Nokia may launch a smartphone of around a thousand yuan, otherwise its position in the Chinese market is very dangerous, because the market share of Symbian system falls too fast.
"China Electronics News": In connection with upstream and downstream conditions, what technologies, products and applications do you think will become the new focus in the field of smartphones in 2012?
Lu Junkuan: First of all, it depends on whether LTE will become a more popular technology. If there is a globally unified, mature LTE chip available and adopted by high-end mobile phones, LTE smart phones are expected to become popular. Second, NFC will also become a hot topic. The Chinese NFC smart phone market will start this year. In addition, the cloud will become a hot spot and become a function that manufacturers actively try. The industry is deeply thinking about what changes the cloud will bring to smart phones.
Huawei's
corporate strategy <br> <br>
thousand Yuan machine is supported by scale

In 2011, Huawei released nearly 20 million smart phones. On this basis, in 2012, Huawei will further expand its investment in smart phone products and market coverage. Huawei Terminal told the "China Electronics News" reporter that in 2012, Huawei's smart phones in addition to the pursuit of excellence in hardware, in pursuit of the ultimate experience in software, still emphasize the "cloud, management, end" of the collaboration. From the perspective of price echelon, Huawei's mobile phone layout is "building a brand with a flagship machine, expanding market share with high-end and high-end machines, and supporting a scale market with high-quality intelligent machines," thereby fully satisfying consumer demand for products at different stages. In terms of operating systems, Huawei Terminal said it will continue to increase investment in the Android field, and will also work closely with Microsoft to launch the Windows Phone operating system in time.
Huawei believes that in 2012, smart phone applications will not only be limited to leisure and entertainment in leisure life, but will also cover more aspects related to work, health, and travel. Smart phones will be integrated with a variety of electronic devices to become the control center of the home network. Consumers can not only use their mobile phones to monitor gas and anti-theft systems at home, but also remotely control home appliances and use various services based on geographical location information.
Yulong Coolpad will extend to the low-end

Cheng Long, the brand director of Yulong Coolpad, told the "China Electronics News" reporter that in 2012, the proportion of smart phones in Coolpad mobile phones is expected to reach more than 95%. In the context of the big screen becoming a trend, the 5.0-inch screen will become the mainstream of cool mobile phone screens. In terms of hardware configuration, quad-core is also expected to be popular on Coolpad. In addition, Coolpad will use its cool brains, high-quality multimedia presentations, massive information storage, and "cloud" service experience as its selling point for smartphones in 2012. In 2012, Coolpad's smartphones will cover the full lineup of products ranging from low-end products under 1,000 yuan to over 5,000 flagship products.
For thousands of smartphones, Coolpad said that the thousand-dollar smartphone is a major trend in the industry. Based on changes in corporate strategy, Coolpad must extend from the high-end segment to the mass market, and strive to become the leader of the Chinese local communications industry.
In the face of the explosive growth of the upcoming thousand yuan smart phone, Coolpad said that the company attaches great importance to cooperation with operators and will jointly develop a thousand yuan 3G smart phone. "Although the thousand-yuan 3G smart phone is inconsistent with Cool's high-end image, this is exactly the opportunity that Coolpad needs to develop the young people's market." Cheng Li said.
Micro viewpoint

@Deng Kuibin: The second wave of popularity of smart phones is coming. Price from 700 to 1500 yuan to 400 to 700 yuan to enter; products from 3.5600M single-mode to 4.01G dual-mode upgrade; technology from the end of the application of the expansion of the cloud to intelligent computing; brand from domestic manufacturers led the evolution of international and domestic equal shares; From operator subsidies to social channels and operators, the main push; regional extension from T1, T2 to T3, T4 cities; marketing from the hardware leading to subdivided user emotional experience innovation.
@Immedia Consulting: In 2011, 96% of apps downloaded by global smartphone users were free apps. By 2015, in-app purchases will account for 64% of smart phone application revenue, far exceeding 39% in 2011. Although some applications currently use advertising to obtain revenue, free games have begun to transition to a "free-value added" model, which includes an application built-in business model.
@Blog downwind: According to a research report conducted by Google and IPSOS Research, China's smartphone penetration rate reached 35%, ranking third in Asia. Smart phone usage statistics: browse 50% of web pages, listen to music 43%, send and receive e-mail 41%, use search engine 37%, take pictures or videos 37%, browse news 35%, social platforms 35%, browse microblogs, etc. 34% Play games 33%, find directions or use maps 28%.
@Arts and Philosophy: From mobile phones to smart phones, we have seen the collapse of the entire European technology and market framework and the overall rejuvenation of the U.S. technology framework. In the field of smart communications, no one can compare the advantages of the United States. This is a very interesting industrial and technological event. I think it is also a more interesting philosophical and artistic event. The victory of American smart technology and industry is essentially the victory of an open technology and market framework.
Pigtail Cable,Flat Fiber Ribbon Cable,Indoor Ribbon Cable,Indoor Optical Fiber Cable
Shandong Qingguo Optical Fiber Co., Ltd. , https://www.qgfiber.com